2020 INTERIOR DESIGN TRENDS FOR YOUR CLOSET
Blog
1. NUMBER ONE: OFF TREND IS ON TREND
This is our favorite trend in 2020!
In a Forbes article entitled 12 Design Trends We Will See in 2020, author Amanda Lauren explains that the design industry is constantly moving. What might be trendy at the moment might also not be your style. It is important to make your space uniquely yours and not chase design trends! Don't feel pressure to create a closet that is trendy. Chances are you may not love it as much as you could if you had stuck to your personal design style.
Co-founder of Hygee and West, Christiana Coop states: "People are designing their homes to reflect their personalities and creating spaces that tell their story. What makes you truly happy is more important than what you see in magazines or on social media."
When meeting with a Classy Closets' designer to come up with the best design for your new closet, don't shy away from letting your unique taste take charge! Designing your space how you like it is always more important than designing it based on trends. You want to be happy in your home so be authentic when talking to your professional designer!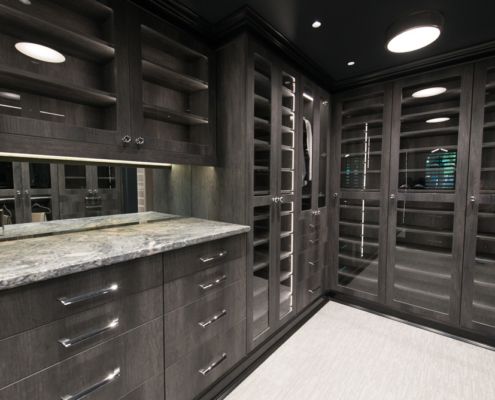 2. NUMBER TWO: BUILT-IN SEATING
In the article Here Are the Interior Design Trends that Will Rule 2020, written by Cat Dash on the Dwell website, she mentions built-in seating as her number one 2020 design trend. She states, "Be it a window-side perch with a great view or cozy reading niche, seating that's built-in adds character to a room and can be an excellent space-saving technique. Fun architectural details like this are going to have a big moment in 2020."
If you have any small or unusual space in your home or closet, you may want to consider adding some built-in seating! We love this thoughtful and intentional way to add an interesting architectural aspect to your space. A bench in a window-nook or closet is a beautiful way to add seating and storage. Plus, it's a great place to take off your shoes after a long workday!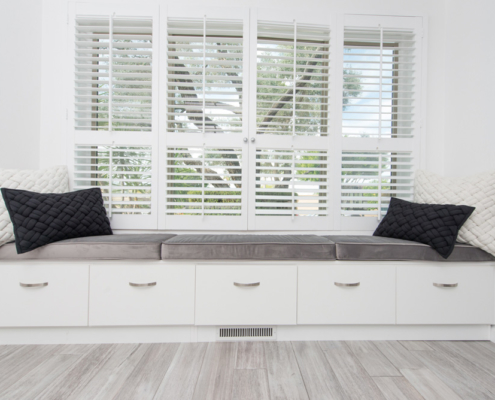 3. NUMBER THREE: BUILT-IN STORAGE SPACES
In the Yahoo Finance article 2020 Closet and Storage Trends Driving Homebuyer Satisfaction, the number one tip for increased homeowner satisfaction is creating built-in home storage. From the article they say, "Homebuyers are moving towards built-in storage solutions for their home. They're seeking a traditional, built-in look that creates the feeling of luxury."
Switching out traditional armoires and dressers for built-in closet storage will free up floor space in your rooms keeping a clean and sleek feeling. A Classy Closets' storage system can double or triple your storage space. This added storage you gain will keep your home more organized. Try opening up your space by creating built-in closet storage!
Resources:
https://www.forbes.com/sites/amandalauren/2019/12/23/twelve-interior-design-trends-well-see-in-2020/#5d2b38944a5f
https://www.dwell.com/article/interior-design-trends-2020-6416f6c9
https://finance.yahoo.com/news/2020-closet-storage-trends-driving-190000173.html
Ready to get started?
A professional designer in your area will contact you for a FREE consultation.
Have immediate questions? Call us!