Ok, ok- let's talk more about libraries, books, bookshelves and comfy couches! You don't have to twist our arm! We aren't done talking about them yet, either.
After our last blog post about libraries and bookshelves- we've been collecting new ideas and dreaming about creating some unique Classy Closet's libraries. The possibilities are endless and we absolutely love some of the creative and beautiful ideas we have seen for decorating your bookshelves.
Here is a list of some of our favorite ideas:
*Add a different color to the walls behind your bookshelf. This helps to deepen and enrich the colors in the room and to bring out your bookshelf- making it even more noticeable. (Image via rightupmy-alley.blogspot.com)
*Add personal touches by incoporating family heirlooms, pictures, favorite decor and more. A book shelf will have more visual interest if it is not lined completely with books. (Image via Lonny Mag)
*Try organizing your books by color and likeness for a creative and bright- but tailored look.
Traditional Family Room by Richmond Home Stagers Carol Vaughan-Davis
*Take advantage of extra bookshelf space by implementing home decor. Allow some of the bookshelf to be used by things other than books.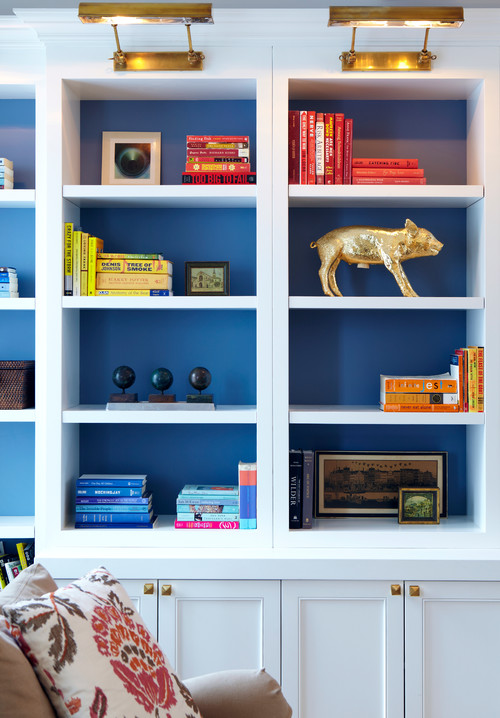 *Solid colored books and decor stand out and give an extra pop to your bookshelf. By looking at the bookshelf below you can easily see how the solid-colored items stand out more easily and give extra dimension.
*Lighting is everything! Try lighting your bookshelves with over-shelf lighting.
*Vary the height of the design elements in your bookcase. Create visual interest by creating different dimensions.
What can we say? We love a good bookshelf. Most especially if it is decorated to express your unique style and creativity! Contact Classy Closets today for a free in-home design consultation! Creating your perfect library or bookshelf is just a call or click away.